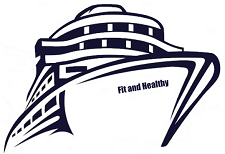 YOUR TIME ON BOARD
Being on board a cruise ship is a wonderful opportunity to focus up on your health, fitness and wellbeing.
Away from home, unchained from the daily grind, free of the responsibility of family, friends and community, once you're onboard, this is Your Time.
As well as being able to relax and take it easy, we've developed a range of health, fitness and wellbeing lectures and interactive programs to help get you back in good shape, loosen you up, relieve joint and muscle pain and have you leaving the cruise refreshed, relaxed, revitalized and reinvigorated - after all isn't that what cruises are meant to do?
We're dedicated to having you leave the ship in better shape than when you arrived.
We've developed two programs for cruise ships, one a lecture series, the other a complete, onboard health, fitness and wellbeing activity program managed by or in association with the spa and fitness centre.
Our onboard health fitness and wellbeing programs are based on the law of too much and too little. For instance,
- What do you do too much of and what do you do too little of
- what do you eat too much of and too little of
How to Keep Yourself Ship Shape
At Fit and Healthy Onboard we have a range of health, fitness and wellbeing seminar and activity programs that have been specially designed to enhance the metabolic, musculo-skeletal and psychological health of our cruise guests.
We can help you make the start on trimming down a little, fixing up a bad back, lowering some of your metabolic numbers, calming you down and elevating your mood so you feel better. All you have to do is turn up and take part.
Fit and Healthy Onboard provides you with one of the best opportunities you'll ever have to kick start your way back into good health.
Click on the logos to enter each website portal.
---